Read Time:
9 Minute, 35 Second
Introduction
Do you want to get a head start in an exciting and economically vital field like agricultural sciences? Then you need the right skills, qualifications, and experience to succeed. Working in agriculture requires knowledge of this complex industry's science and business sides and understanding how different elements work together to support farmers, businesses, communities – even entire countries. To succeed in an agricultural career, you must possess certain skills and competencies to help set your foundation for tackling the numerous challenges ahead. Read on to learn more about the essential skills and qualifications needed for a rewarding career in agriculture!

A successful career in agriculture requires a combination of skills and qualifications beyond farming techniques. As the industry evolves and faces new challenges, agriculture professionals must possess diverse abilities to thrive. Here are seven essential skills and qualifications for a successful career in agriculture:
Agricultural Knowledge and Expertise:
Agricultural knowledge and expertise are indispensable skills for individuals aspiring to have a prosperous career in the agriculture industry. In this dynamic and constantly evolving field, professionals must deeply understand various aspects, such as crop production, livestock management, soil science, pest control, and sustainable practices. They must also stay updated with the latest advances in technology and innovation that improve yields and efficiencies. Proficiency in data analysis and interpretation is equally important to make informed decisions regarding planting schedules, fertilization requirements, irrigation techniques, and disease prevention strategies. Furthermore, effective communication skills are essential for agricultural professionals collaborating with farmers, research institutions, government agencies, and industry stakeholders. The ability to convey complex information ensures the successful execution of projects and the implementation of best practices. Additionally, adaptability is key as professionals must navigate external factors like climate change or market fluctuations effectively. Ultimately, by continuously expanding their agricultural knowledge base through ongoing education and experience-based learning opportunities like internships or workshops – these individuals become equipped with the necessary tools for a long-lasting successful career in agriculture.
Adaptability and Problem-Solving:
Adaptability and strong problem-solving skills are indispensable for individuals pursuing a fruitful agricultural career. As the agricultural landscape continues to evolve due to technological advancements, climate change, and shifting market demands, professionals must be able to adapt their methods and strategies accordingly. Adaptable individuals possess the flexibility and resilience to embrace change, whether experimenting with new farming techniques or adjusting production practices to mitigate environmental challenges. Problem-solving capabilities enable agricultural professionals to identify issues, analyze root causes, and effectively develop innovative solutions. From addressing plant diseases and pests to optimizing irrigation systems for water conservation, problem solvers in agriculture contribute significantly towards sustainable food production. Moreover, these skills allow professionals to navigate external factors, such as government policies or market fluctuations, that impact the agricultural industry's profitability and success. The ability to adapt quickly and find practical solutions is therefore crucial for those aspiring to excel in the ever-evolving field of agriculture.
Business and Financial Management:
Business and financial management are essential skills for individuals pursuing a successful career in agriculture. In today's competitive market, agricultural professionals must navigate complex financial systems and make informed business decisions to ensure profitability and sustainability. They must deeply understand budgeting, risk management, investment analysis, and strategic planning. Effective financial management allows farmers and agribusiness owners to optimize their resources by minimizing costs, identifying growth opportunities, and maximizing returns on investment. Additionally, sound business acumen is vital for managing market fluctuations, accessing capital for expansion or innovation, negotiating contracts, and complying with regulatory frameworks. Furthermore, the ability to interpret financial data accurately helps agricultural leaders track performance metrics and make evidence-based decisions that drive efficiency and yield successful outcomes. Therefore, cultivating expertise in business and financial management is paramount for anyone aspiring to thrive in the dynamic field of agriculture.
Communication Skills:
Effective communication skills are important in everyday life and crucial for a successful career in agriculture. In this field, professionals must interact with various stakeholders such as farmers, suppliers, government officials, and consumers. Good communication skills can ensure smooth and clear exchanges of ideas, requirements, and information. This includes both verbal and written communication skills. Verbal communication is the key to building relationships, negotiating contracts, explaining complex technical concepts, and resolving conflicts.
On the other hand, written communication is vital in documenting research findings, preparing reports for management or funding agencies, and writing emails or memos to colleagues or clients. Effective communication across cultures and languages is becoming increasingly important due to global markets. Therefore, honing one's communication skills will allow individuals to not only express their ideas clearly but also understand the requirements and concerns of others to collaborate efficiently towards achieving common goals in the ever-evolving world of agriculture. Overall, interpersonal skills are very vital.
Environmental Stewardship:
Environmental stewardship is a crucial skill for those pursuing a successful career in agriculture. With the increasing global concerns about climate change and the sustainability of our food systems, individuals who can effectively manage environmental resources are highly sought after. Professionals in agriculture need to understand how their practices impact the environment and develop strategies to mitigate negative effects. This includes implementing efficient irrigation techniques, adopting organic farming methods, reducing greenhouse gas emissions, and conserving soil health. In addition to these technical skills, excellent communication skills are essential for engaging with stakeholders such as farmers, policymakers, and consumers to promote sustainable agricultural practices. Furthermore, well-versed in emerging technologies such as precision farming and remote sensing can help maximize agricultural productivity while minimizing environmental harm. Ultimately, having a strong foundation in environmental stewardship is morally responsible and critical for ensuring agricultural enterprises' long-term viability and profitability.
Technology and Data Literacy:
In today's rapidly evolving agricultural landscape, proficiency in technology and data literacy is essential for a successful career. Technology has revolutionized every aspect of agriculture, from precision farming to supply chain management. Farmers are now armed with cutting-edge tools like drones, sensors, and satellite imagery to monitor crop health and optimize yields. Data literacy plays a crucial role in harnessing the power of these technologies. Understanding how to collect, analyze, and interpret agricultural data enables farmers to make informed decisions about planting strategies, irrigation schedules, and pest control measures. Moreover, machine learning and artificial intelligence advancements have opened up new opportunities for predictive analytics and automated farming practices. By embracing technology and data literacy, professionals in the field of agriculture can stay ahead of market trends, improve productivity levels, reduce resource waste, and ultimately achieve sustainable farming practices that contribute to global food security.
Networking and Relationship Building:
Networking and relationship building are crucial skills for success in agriculture. Individuals who can effectively build and maintain relationships will have a distinct career advantage in an industry that relies heavily on connections and partnerships. Networking allows professionals to tap into a pool of knowledge, resources, and opportunities that may not be immediately accessible. By attending industry conferences, joining professional associations, or engaging in online communities, agriculturalists can expand their network and establish valuable connections with fellow experts, researchers, suppliers, and potential clients. Additionally, relationship building is key in fostering trust and collaboration within agricultural enterprises. Successful professionals understand the importance of cultivating strong relationships with colleagues, customers, investors, and regulators to foster mutual understanding and cooperation. Developing these essential skills will undoubtedly pave the way for a thriving career in agriculture.
Additional Qualifications:
Education and Training:
To embark on a successful career in agriculture, it is crucial to possess the right education and training qualifications. A solid foundation in agricultural sciences is essential, and this can be achieved through obtaining a bachelor's degree in fields such as agronomy, horticulture, or animal science. These programs provide individuals with a comprehensive understanding of plant and animal management, soil science, crop production, and pest control. Additionally, hands-on experience through internships or cooperative programs allows aspiring agricultural professionals to gain practical skills and industry exposure. Furthermore, specialized certifications in areas like organic farming or precision agriculture can enhance one's marketability within the agriculture sector. Continuous education is vital in keeping up with technological advancements and changing industry practices. Overall, an individual with a combination of formal education, practical training, and ongoing learning opportunities will have the qualifications required for a thriving career in agriculture.
Experience:
Experience is crucial for anyone aspiring to have a successful career in agriculture. While academic qualifications, such as specialized degrees in agricultural sciences or related disciplines, provide fundamental knowledge and theoretical understanding of the industry, practical experience equips professionals with the necessary skills and expertise to thrive in this field. Whether through internships, apprenticeships, or hands-on work on farms or agricultural research institutions, individuals gain invaluable insights into various facets of agriculture, such as crop production, livestock management, soil health assessment, pest control techniques, and emerging technologies. Additionally, experience enables professionals to develop problem-solving abilities and critical thinking skills when faced with real-world challenges. By working under experienced mentors, obtaining exposure to diverse agricultural operations and technologies, and undertaking research projects aligned with industry needs, individuals can enhance their competency levels and acquire the practical knowledge needed to contribute effectively to the ever-evolving world of agriculture. In conclusion, while qualifications provide a strong foundation for a career in agriculture, experience is ultimately the driving force behind success within this dynamic profession.
Certifications:
Certifications play a crucial role in ensuring a successful career in agriculture. They provide individuals with the necessary qualifications and skills to perform effectively, demonstrating their expertise to potential employers or clients. A certification validates one's knowledge and is committed to ongoing professional development, indicating a dedication to staying up-to-date with industry trends and best practices. In agriculture, various certifications are available, covering diverse areas such as crop production, animal husbandry, sustainable farming practices, and agribusiness management. These certifications equip professionals with an understanding of cutting-edge techniques for optimizing yield, managing resources efficiently, mitigating environmental impacts and complying with regulatory standards. Moreover, by acquiring specialized certifications in emerging fields like precision agriculture or organic farming, individuals can differentiate themselves from competitors while enhancing their credibility within the agricultural community and expanding their career opportunities nationally and internationally. Overall, investing in certifications is essential for those wishing to excel in the ever-evolving world of agriculture by demonstrating expertise and competence that will benefit themselves and the industry.
Remember that the agricultural industry is diverse, and specific job roles may require additional skills or qualifications. Being open to continuous learning and staying updated with industry developments will help you agriculture hire and succeed in this dynamic field.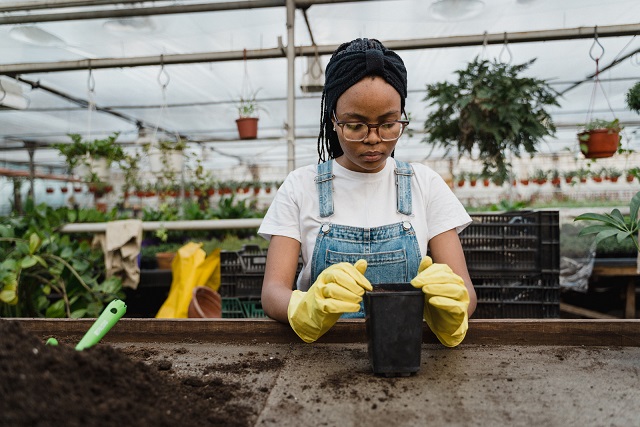 Conclusion
To summarize, various essential skills and qualifications are necessary to ensure success in a career in agriculture. While critical thinking and problem-solving form the basis for many agricultural-based decisions, research capabilities, leadership qualities, organizational skills, and technological fluency are equally important. An expansive understanding of macroeconomic trends and local prevailing conditions also gives agricultural professionals a distinct advantage. Every agricultural organization can benefit from passionate individuals committed to ensuring a bright future for their industry. Henceforth, with dedication and determination combined with the necessary prerequisites, there is surely potential for everyone involved in the sector to reach unparalleled heights of success.
Autobiography
Eric Reyes is a passionate thought leader, having been featured in 50 distinguished online and offline platforms. His passion and knowledge in Finance and Business made him a sought-after contributor providing valuable insights to his readers. You can find him reading a book and discussing current events in his spare time.